Shopping Cart
Your Cart is Empty
There was an error with PayPal
Click here to try again
Thank you for your business!
You should be receiving an order confirmation from Paypal shortly.
Exit Shopping Cart
| | |
| --- | --- |
| Posted on June 25, 2013 at 1:31 AM | |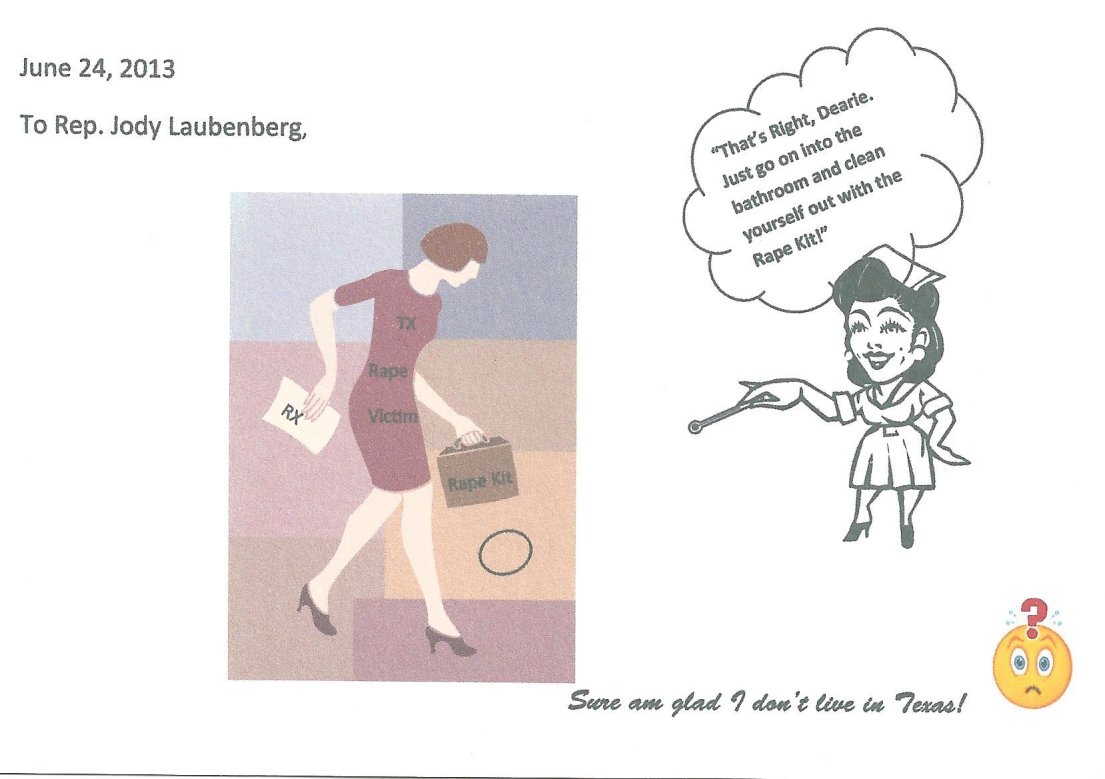 Today, June 24, 2013, I believe that many of you readers, especially you women were shocked as well as astonished by the comments Texas State Representative Jody Laubenberg made explaining the "Rape Kit" to her audience as the discussion was going on about the newly approved restrictive abortion bill by the Texas State Assembly.This is the bill she wrote which would make abortion illegal and restrict women from having access to abortion after being in their 20th week of pregnancy no matter the cause including rape and/or incest. Here the state of Texas has an elected representative who does not understand the "Rape Kit" that is held at hospitals and clinics for women who have been raped so  that samples of semen and other physical proof of the rape are collected as proof of the violation and in hopes of finding and jailing the perpetrator. It is not an "abortion kit". Her statement that all the woman has to do is use the rape kit to "clean herself out" and the problem is solved was unequivocally ignorant.  It sounds like she thinks the rape kit is a douche used for an abortion. How is it possible that a woman who has authored and pushed this restrictive abortion bill has no knowledge of just what rape entails and what the assisting authorities do to help the victim? And yet, she claims to know better than the victim just exactly what should be done, including carrying a baby to term, and gives herself, as well as those who voted for this bill, the authority to control the present and future of the rape victim. How is this possible?
I'm sure glad I don't live in Texas and I am so sorry for the courageous women who do and have to deal with this stupidity in power.
Keep the citizens filibuster going Texans so that the bill will be killed with no vote in the Senate. Be victorious!
Categories: Women's Issues
/