Shopping Cart
Your Cart is Empty
There was an error with PayPal
Click here to try again
Thank you for your business!
You should be receiving an order confirmation from Paypal shortly.
Exit Shopping Cart
| | |
| --- | --- |
| Posted on September 6, 2012 at 3:13 AM | |
Yes, if you are a woman reading this blog after watching 2 days at the Democratic Convention, you cannot help but be empowered by all of the speakers, especially those women who have stepped up and stood up for women and their rights in our country. Katheen Sebellius-Secretary of Health and Human Services, Tammy Duckworth-injured Iraq combat veteran running for the House in Illinois, Lilly Ledbetter for whom the Lilly Ledbetter Fair Pay Act for women was named, Nancy Keenan-President of the National Abortion Rights Action League Pro-Choice-NARAL, Sandra Fluke-Georgetown Law School graduate and women's rights advocate, Elizabeth Warren-Professor, Harvard, past Special Advisor for the Financial Protection Bureau and now Senate Candidate from Massachusetts,  Cecile Richards-President of Planned Parenthood, and First Lady, Michelle Obama. Men must feel proud for their wives, daughters, granddaughters, mothers, other female family members as well as friends who have benefited from the actions of these women. They have believed in themselves and in the importance of promoting the well-being of their families by their forward-moving behaviors. Every woman benefits from their actions, regardless of political affliliations. 
Many women attending the Convention identify with the speakers because they are standing up for who and what they believe in. Understanding how the disease of alcohol and drug addiction affects families, I suggest that a fair percentage of these attendees are dealing with co-addiction in their personal lives, some have gleaned the information which has helped them recover, and many are still in a quandry about the disease. They either have faced or will face the facts of alcoholism in real life. I am attaching a page from my book "It's Okay To Be Dumbfounded, Just Don't Stay That Way!" which describes some of these facts: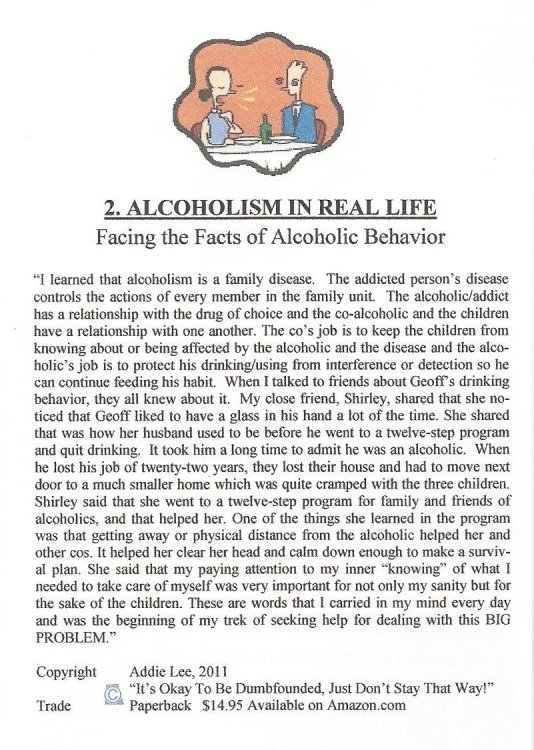 I care about people, especially those who are in a relationship with a person who is addicted to alcohol and/or drugs. In my book, I share my life and the newest information about a potent path to recovery-from my co-dependency and my husband's addiction-which led us to our 28 years of sobriety.
I identify with the women attending and speaking at the Convention because we all care about our families, ourselves, others and our total well-being. We all do what we can with the information we have to improve our lives. We are the winners!   
Categories: Women's Issues
/